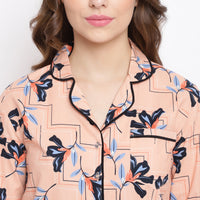 La Intimo Boldgal Printed Pyjama & Shirt Set
La Intimo Boldgal Pyjama Shirt Set Prints give a cheerful look in every season. Product
Description - If you seek all time fashion, look no further than our pyjama shirt comfortable sets, which with its beautiful print makes you the boss. Time to put it into your shopping cart. Designed for everyday wear, from day long to overnight comfort.
Brand - La Intimo Style - Women's full sleeves Shirt + Pyjama with 2 side pockets.
Fabric - Manufactured with woven fabric material, the Boldgal Pyjama Shirt Set for Women is an exceptional comfort wear to buy. The cotton fabric material provides comfort and breathing space to the wearer. Also, its airy nature makes everything perfect. Keep your skin at ease at all times.
Quality – The Boldgal Pyjama Shirt Set for Women is manufactured with luxurious quality of fabric material. This Bold and comfy pyjama shirt set has no wear and tear issues i.e. it's absolutely durable. Even its colour and shape retains wash after wash.
Colour - Base colour peach with flower print, contrasting pippin. Size - This super-cool Pyjama shirt set can easily be bought without worrying about the size, style or colour. It's available in every size including the Small, medium, Large and Extra Large. So, get it now for your wardrobe in this most soothing colour.
Features and Design – The sterling features of the Boldgal Pyjama Shirt Set for Women includes comfortability, breathability, soft and smooth touch with a perfect-fit elastic. The unique pyjama shirt set makes it different from others. Also, it comes with the pocket. This pyjama shirt set will not cause marks on the skin. It has an antibacterial finish, which doesn't cause rashes or itchiness. Now, the design of this extraordinary printed fashion pyjama shirt set fits beautifully on the body. The soft and smooth fabric provides overall ease. Shirt - Manufactured with woven bio washed fabric, Azo free dyes are used to keep your body away from any possible chemical effects like rashes, itching etc. The use of contrasting pippin completes its overall look. 1 pocket.
Pyjama - Manufactured with premium woven fabric, the fabric has a smooth finish giving a luxury feel to the wearer. 2 side pockets with ample space to keep your valuables safe and secure. La Intimo, the first-ever premium intimate wear brand for Women that started with an aim to render stylish and distinguishing designs. For men's and women's unique collections of wear, La Intimo is always one step ahead. The Boldgal Pyjama Shirt Set for Women has a unique design, which allures the Women at first glance. The modal spandex fabric makes it soft to wear as a perfect clothing. Also, you can wear it at any time and enjoy its sober look. The elasticity of this super comfy pyjama for Women has no issues. The shirt is exceptionally comfortable with its amazing tailoring. To experiment with your closet collection, now get your closet stocked with this unexceptional pyjama shirt set in unconventional design and style. The prominent plus point of buying this super amazing pyjama shirt set is that it provides comfort all day all night long. So get it now and express your mood in an elegant way. Treat yourself and make this pyjama shirt the perfect gift for your comfort collection.